Following the disappointing Ek Deewana Tha (2012) and the mediocre Neethaane En Ponvasantham (2012), Gautham Menon appears to be gearing up for a highly anticipated comeback with Yennai Arindhaal in early 2015. We will first look at what we know so far about the film before we finally speculate on what the story could be about. Let's start!
The last time Gautham Menon did a movie with a major movie star was with Surya Sivakumar in Vaaranam Aayiram (2008). Now, he is teaming up with Ajith Kumar for the first time, which did not seem possible at one point. Back in 2010, Ajith was supposed to make his 50th film with Menon but things did not work out and they both went on to pursue other projects. All that appears to be untrue with the two big names now teaming up, much to fans delight. Unlike most other Tamil movie stars, Ajith does not shy away from doing multi-starers like, Kandukondain Kandukondain (2000), Mankatha (2011) and Arrambam (2013). This film also has a big star cast.
Not much has been revealed about the movie, which is pretty common for movies by big directors with big actors. They do not need the added hype than fans' expectations. This is good as it does not spoil the film with badly-made trailers and keeps audiences excited. However, Menon has revealed that Ajith will be appearing in four different looks in the film, but no mention on whether any of them requires him wearing the khaki uniform. He will be playing a father to Baby Ankitha though, although it might one more closer to his actual age, unlike in Vaaralaaru (2006) and Aasal (2010).
From one of the released posters, we can see Ajith in a more younger look with short black hair, a thick moustache and khaki slacks, which is his look in the portion with Trisha in it.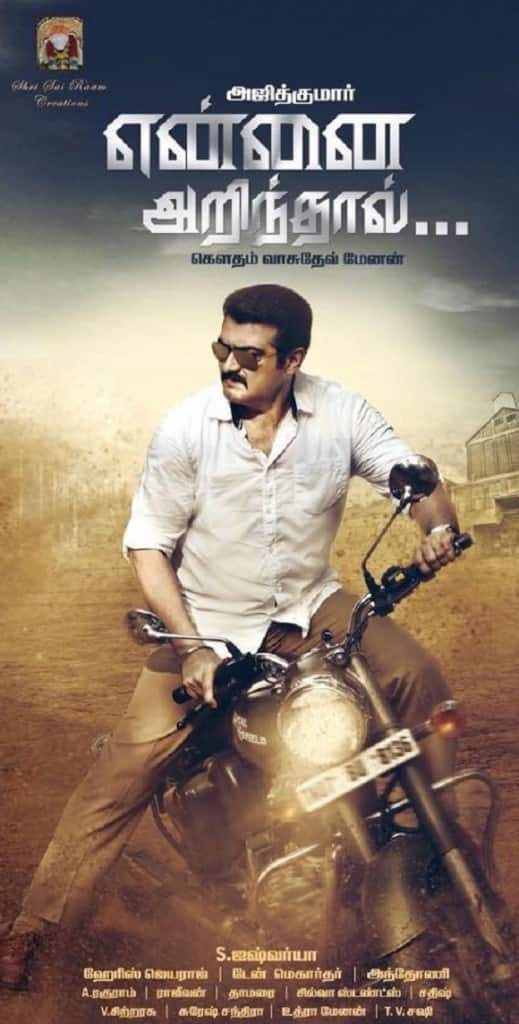 Another two posters show him with a rugged, bearded look in much darker settings. Leaked stills shows him in this look filming with Arun Vijay.
One still shows him slightly plump with stubble in his natural grey hair, which is said to be his look in the portions involving Anushka.
Trisha is teaming up with Gautham Menon for the second time after the romantic classic Vinnaithaandi Varuvaayaa (2010). She has gone on record by saying that she will be playing Ajith's wife in this film, which will be a much more intense love story than VTV. That is a huge sigh of relief as if there are two genres that Gautham is a master at, it is action thrillers and romantic dramas. From her saree-clad look in this still, she appears to be playing a more mature, orthodox Indian woman.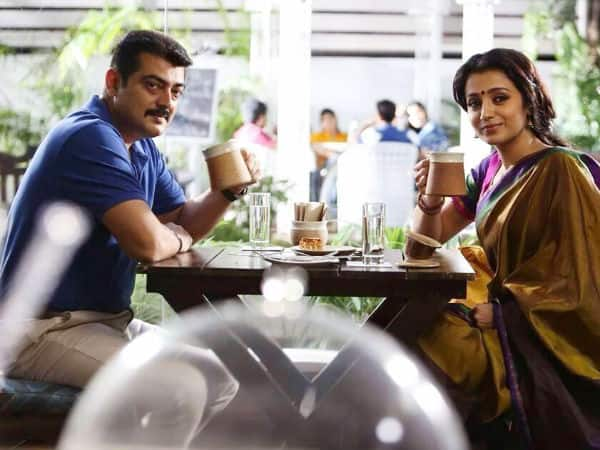 Nothing much has been said about the other characters, although Menon has teased us with some information. Arun Vijay will be playing the second male lead opposite Parvathy Nair. Anushka Shetty will be playing an internet professional with newcomer Amit Bhargav as her admirer. Thalaivasal Vijay, who has played villainous roles in many films, will be playing a supporting role. What is most interesting is Vivek, who starred in Menon's debut, Minnale (2001) will be working for the second time with him in this film. Minnale was the first and last time Gautham Menon gave in to the norm of having a separate comedy track for commercial films. Since VIP (2014), Vivek seems to be transforming from a comedian to more of a comical actor. This suits Menon's style of storytelling more as seen from what VTV Ganesh did; casual funny dialogues with no over-the-top comedy.
Another report alleged that Arun Vijay will be playing a negative part in the film.
Is Anushka playing Ajith's second love interest in the film's other half?
With a moustache like that, could Vivek be playing some kind of police officer?
Another interesting fact about this project is the importance placed on the music, which is almost always considered a character on its own in a Gautham Menon film, even when it is not there like in Nadunisi Naaygal (2011). Harris Jayraj is teaming up with Menon for the first time since 2008. No matter which music director Menon works with, you can always expect beautiful songs and equally fantastical background scores. One song sequence was filmed in Jaipur, Jodhpur and Jaisalmer while another lullaby number with Ajith and his on-screen daughter was shot in Sikkim. Some scenes were even shot in Malaysia, although there is no report on whether it is for a song sequence.
Now, let's speculate on what the story could be about. Word on the streets is that this is Gautham Menon's third Tamil police flick after Kaakha Kaakha (2003) and Vettaiyaadu Villaiyaadu (2006), although none of the released movie posters and leaked shooting spot images shows Ajith in a full police uniform. His co-star Trisha has explained that Ajith will be playing a radically different character from what he usually does. The khaki pants, hairstyle and moustache does lead us to believe that it should come as no surprise if Ajith plays some high-ranking civilian-clothed officer, as that it a territory Gautham Menon is yet to explore.
Ajith appears to have two heroines, Trisha and Anushka, probably each for one half of the film. Since Ajith has four different looks in the film, this could imply that it is about different parts of his life. Gautham Menon is notorious for killing off at least one of his heroines in many of his films. Trisha probably plays his first wife who appears in the film's first half and is killed by a villain who has a grudge against Ajith's character. Their daughter probably dies with her, or maybe survives, even growing up to be Parvathy Nair's character.
Ajith's character then might want to seek revenge, thus his more rugged look. Arun Vijay probably plays a friend or college who appears to be nice at first but has a secret sinister agenda, if it is true he is playing a villain.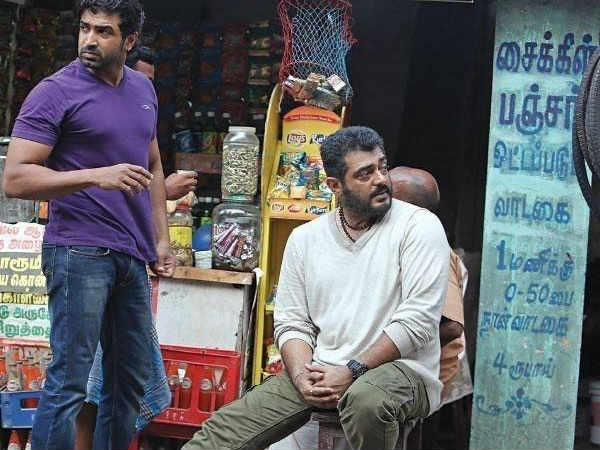 That is all I can speculate for now. It is not my intention to spoil this movie for anyone as like every other regular person out there, I am not sure what the story is about. Like all other fans, I like to fantasize about what the film is going to be about as the hype surrounding it continues to grow. All I do is put my thoughts into words to share with everyone else out there. Let's hope the movie lives up to our expectations. I know Gautham Menon will deliver after three years of his last release. Will update this blog after a teaser or trailer is released. Do comment below regardless if you agree or disagree with me. Cheers!