Flight Stewardesses and Their Uniforms
Flight stewardesses are known for their glamour and elegance, partly because of their uniforms. Most flight attendant's' uniforms, either for ladies or gents, may seem reflect the culture of the country that owns the airlines. For example, the flight stewardesses of Air India, Sri Lankan Airlines and Biman Airlines all wear saris. It might look uncomfortable and even inappropriate to wear such traditional attire at the workplace, but like other uniforms, they are designed to be both practical and durable.
Sri Lankan Airlines stewardess uniform
Most commercial aviation pioneers were of military background. This is probably why most of the earlier stewardess uniforms were generally not made to be aesthetically pleasing. Instead, they were made up of berets, caps, nurse shoes, jackets, epaulettes and brass buttons. This tradition is maintained by many airlines like British Airways and Qatar Airways. However, the marketing significance of female flight attendants began to develop in the late 1930s and early 1940s. This was when many airline companies started to assign established designers to create their cabin crews' uniforms.
A Bit of History
Even our very own former Malaysia-Singapore Airlines (MSA) in 1968 commissioned a foreigner to design its cabin crew's uniforms. He was not Malay, nor was he Malaysian or Singaporean. He was the French designer Couturier Pierre Balmain. As part of incorporating the indigenous Malay culture into the design of uniform, Balmain decided the sarong-kebaya would be most appropriate as the uniform. Borders from the edges of traditional Batik fabric were added around the hem, neck and cuffs. Till this day, the uniforms are tailor made by Singapore Airlines's domestic tailors. In 1972, six years after the separation of Singapore from Malaysia, Malaysia-Singapore Airlines was renamed Singapore Airlines (SIA). A brand new Malaysia Airlines (MAS) was created. Since most of MSA's international routes were flown out of Singapore well-established airports, a huge portion of international routes were in Singapore Airlines' hands. Even MSA's headquarters was located in the highly developed Singapore and immediately became that airline's headquarters. SIA also kept 10 out of MSA's 13 Boeing 707s, along with some 737s. Just like most of the now defunct MSA's possessions, Singapore Airlines inherited Balmain's high-end design and uses it till today. SIA expanded overnight, while MAS had to generally start from scratch with nothing more than domestic routes to grown on.
How an MSA aircraft might have looked like
The Iconic Sarong Kebaya
Malaysia Airlines developed its own stewardess uniform. Malaysian designer Andy Chiew designed the first set of Kebaya uniforms for the' cabin crew. His design was said to be the best out of nine sets of uniforms submitted. There were originally two sets of uniforms, either brown or green. as shown below.
The original MAS uniforms for stewardesses.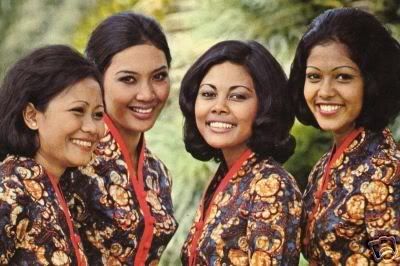 The uniform used before the current one.
In 1986, Malaysia Airlines introduced its own original Sarong Kebaya uniform for female flight attendants. Designed by the School of Fashion at Mara University of Technology, it also incorporates Batik material with a bamboo weave pattern motif as the background. Malaysian flowers like the cempaka, jasmine and hibiscus leaves are superimposed on the design. Geometric Sarawakian patterns are used for the lapels of the top, sleeve edges and the sarong edges as well. Stewardesses wearing the hijab would wear a light green headscarf over their heads. Male flight attendants wear simple grey jackets.
Just like all major airlines, both MAS and SIA have different uniforms for stewardesses of different ranks.
Colour Code of MAS female flight attendants:
1. Inflight Supervisors : Red with yellow flowers
2. Chief Stewardesses : Green with pink flowers
3. Leading Stewardesses : Green with pink flowers
4. Flight Stewardesses : Green with pink flowers
5. Ground front liners : Green with magenta flowers
Uniforms for either chief, leading or flight stewardesses.
The lady on the right is identifiable as an inflight supervising stewardess because of her red uniform.
Colour Code of SIA female flight attendants (Singapore Girls):
1. Flight Stewardess :Blue
2. Leading Stewardess :Green
3. Chief Stewardess :Red
4. In-Flight Supervisor :Purple
The four different uniform types
Other Airlines with Stewardesses Wearing Kebayas
Royal Brunei Airlines
Malindo Airlines
Lion Air
Garuda Airlines